Local Search
The Case for Local Search Identity Management
Local Search is the first (and sometimes only) impression customers have of your business. Over 50% of all searchers are searching from mobile devices and these users expect one-touch access to your business hours, services, reviews, directions, and reservations without ever visiting your website. That's because most local searchers never leave the search engine results page (SERP)... In fact, some users even subscribe to push notifications about special offers or new products that are triggered when they are in close proximity to your location.
"The importance of local SEO has grown…" and "the ride isn't over yet." — Entrepreneur Magazine
Why is my company information wrong on Google?
If you have been in business for any time at all, there is likely an abundance of inaccurate information about your company online.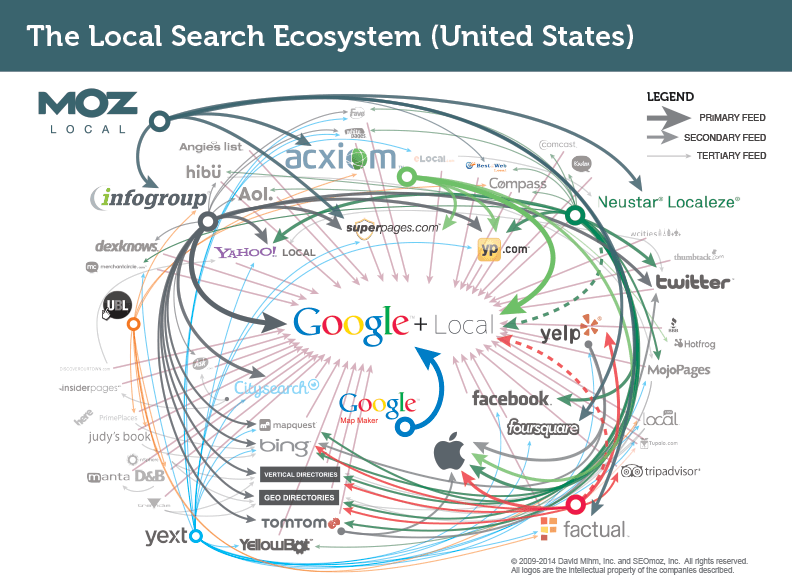 This diagram from Moz Local highlights the problem. Dozens of third-party directories share conflicting information about you based on scraping and crawling business listings. As this information is copied and replicated, it quickly escapes your control.
Adding insult to injury, Google factors this third-party information into your search rankings and trust factor as a business. Quite literally, misinformation about your business and inconsistent business location information across online maps, apps, directories, GPS devices, social networks, and search engines are costing you business!
Take control of your company search listing profiles
MojoMediaPros can resolve your incorrect company information through local search identity management (IDM).
We'll create a single, consistent search profile for your business that we deploy to replace all the inconsistent information found about you on third-party sites including Google, Facebook, Bing, and Yellow Pages — 70 third-party directories, and that number is growing.
Does your business have multiple locations? With our platform, we can easily manage your business information for all locations, making it easier for searchers to find your business, at the location nearest to them, quickly.
Curious how accurate your business information is across dozens of online search listings? For a FREE real-time, self-serve, evaluation report, visit mybizlistings.mojomediapros.com.
Improve Your Business With Accurate Information
Competitive Advantage
Synchronize and gain real-time access to 70+ third-party directories.
Call off the web crawlers! Your data will not be overwritten once you are on our platform.
Gain an optimized Google My Business box.
Link your business to Waze for online directions.
Immediate notification of reviews on Yelp and other sites.
ROI: Return on Investment
Local searches convert. More than 82% lead to a business call, visit, or sale.
Google rewards businesses with consistent online information by awarding them a higher trust factor.
Our IDM service is affordable and effective–easily returning your investment in a short time.
Customer Satisfaction
Provide your customers with consistent, accurate online information about your business across 70+ third-party directories from Angie's List to Yellow Pages.
Free Advertising
Add enhanced content — images, promos and specials, holiday hours — to your third-party listings.